Delivering Life-Changing Healthcare Benefits
SKYGEN International Foundation, Inc. brings the power of SKYGEN's innovations in technology and digital capabilities to bear on a global issue – lack of access to healthcare. Our vision is to find cost effective ways to improve healthcare in underserved parts of the world by using emerging technologies. The Foundation works to deliver life-changing healthcare benefits to those without them due to cost and/or lack of access to care and technology.
Our current initiative is to help provide prescription eyeglasses to the people of Tanzania. Worldwide, it's estimated that there are approximately 2.5 billion people who need glasses, but in developing countries like Tanzania, there's a critical shortage of eye doctors. With eyeglasses and the ability to see clearly, the lives of adults and children can be transformed.

Read about our charter project below
SKYGEN International Foundation is a 501(c)(3) organization. At this time, we are not accepting grant inquiries or requests.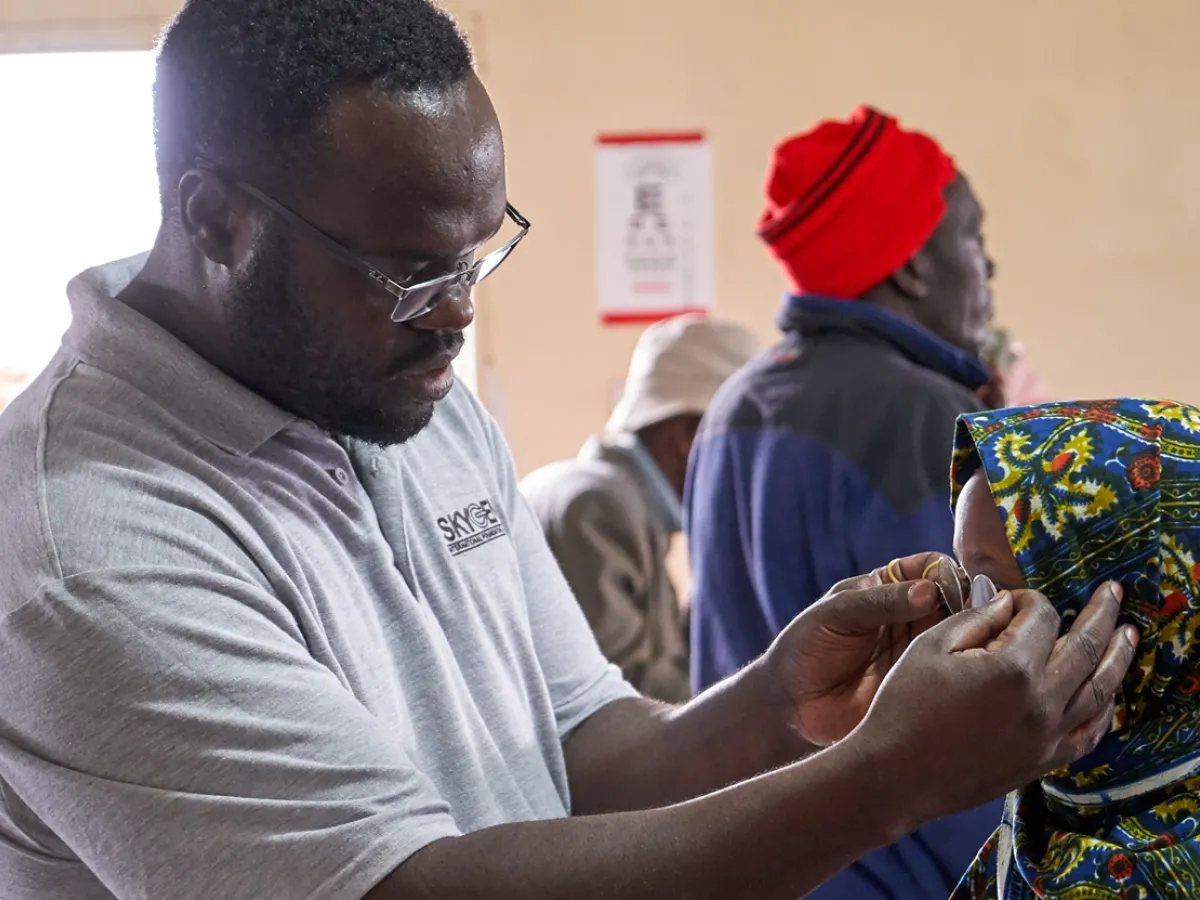 Charter Project: Vision Care in Tanzania
Improved vision care for thousands of children & adults in Tanzania
Beginning in July 2018, SKYGEN Foundation partnered with Essilor Vision Foundation and the Evangelical Lutheran Church of Tanzania (ELCT) to bring cost-effective vision care to Tanzania. A team from SKYGEN Foundation and Essilor visited clinics and hospitals in five Tanzanian communities. Attendees' ages 3 to 100+ had their eyes tested and more than 80% were provided exact prescription eyeglasses that day. For more difficult prescriptions, orders were sent to Essilor's lab in Kenya to make custom eyeglasses.

Additionally, SKYGEN Foundation has hired and trained a local care team to conduct vision testing. Through portable auto refractors, smartphone technology, SKYGEN USA's eyeglass ordering portal and partner eyeglass laboratories throughout the world, and Essilor's frames and lenses, more residents of Tanzania's Arusha region will receive glasses custom-made to their specific prescription. As of July 2021, more than 178,000 people have accessed vision care and nearly 35,500 pairs of glasses have been distributed through SKYGEN Foundation's initiative.
By helping Tanzanians see their world more clearly, we hope to enhance their quality of life.
You Can Make a Difference
Your donation helps provide vision screenings and prescription eyeglasses for underserved parts of Tanzania and funds training of local teams needed to sustain these efforts.
Donate Now