Since July 2018, SKYGEN International Foundation has been providing eye exams and glasses to students and adults throughout the Meru district of northeastern Tanzania. This rural agricultural area in the foothills of Mount Kilimanjaro relies on livestock and subsistence farming and there is very limited access to vision care. Tanzania has approximately 4 eye doctors for every 2 million people and for many people access is further limited due to cost and distance.


Worldwide 2.5 billion people suffer from uncorrected poor vision leading to lower productivity, road accidents, difficulties in school and increased risk of falling among the elderly. SKYGEN International Foundation's efforts in Tanzania in partnership with Essilor and the Evangelical Lutheran Church of Tanzania is helping address poor vision and improve lives.
TANZANIAN STAFF KEY TO OUR SUCCESS
One key to SKYGEN International Foundation's success in recent months are the extraordinary efforts of our Tanzanian team. Executive Director, Lisa Sweeney, notes, "I am thrilled and honored to be able to lead this philanthropic effort. It is life changing to spend time with these people, see how they live their lives, and see their happiness, faith and thankfulness. I brag about the work our team does any chance I get."
Our Tanzanian team has dedicated their efforts to successfully testing more than 42,000 individuals (which includes 30,594 students) through the end of February 2019. They have distributed more than 12,000 pairs of glasses. The team is a hardworking group who relishes having such a positive impact on people's lives.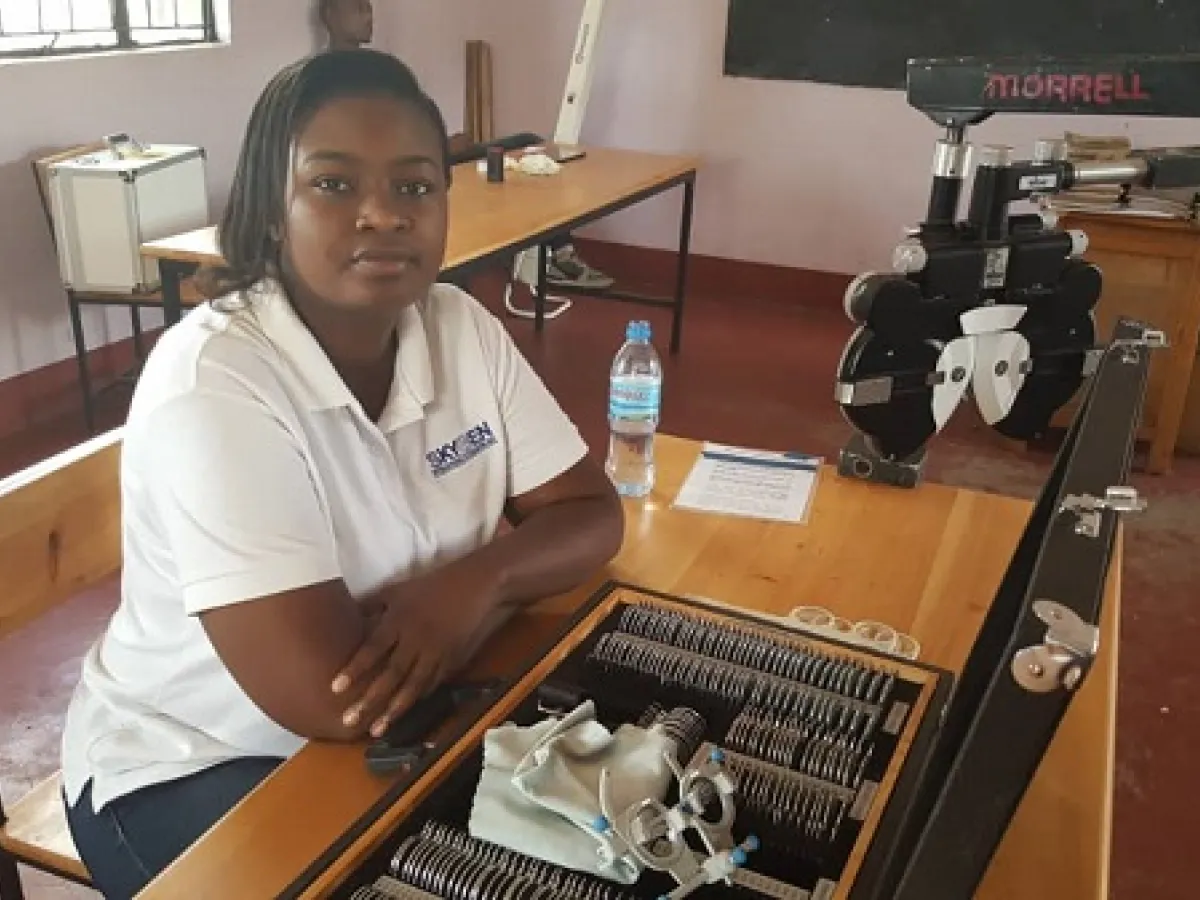 Our Optometrist, Enny Niko, has witnessed large numbers of students who cannot see the blackboard or read books. "They were struggling a lot to see. Through SKYGEN International Foundation their lives have improved. They are very happy as now they can see better and enjoy their studies." She notes that their glasses will help them to achieve their ambitions. Personally, Enny is appreciative of the opportunity to advance in her career with a good job, learn new skills and the ability to serve many people.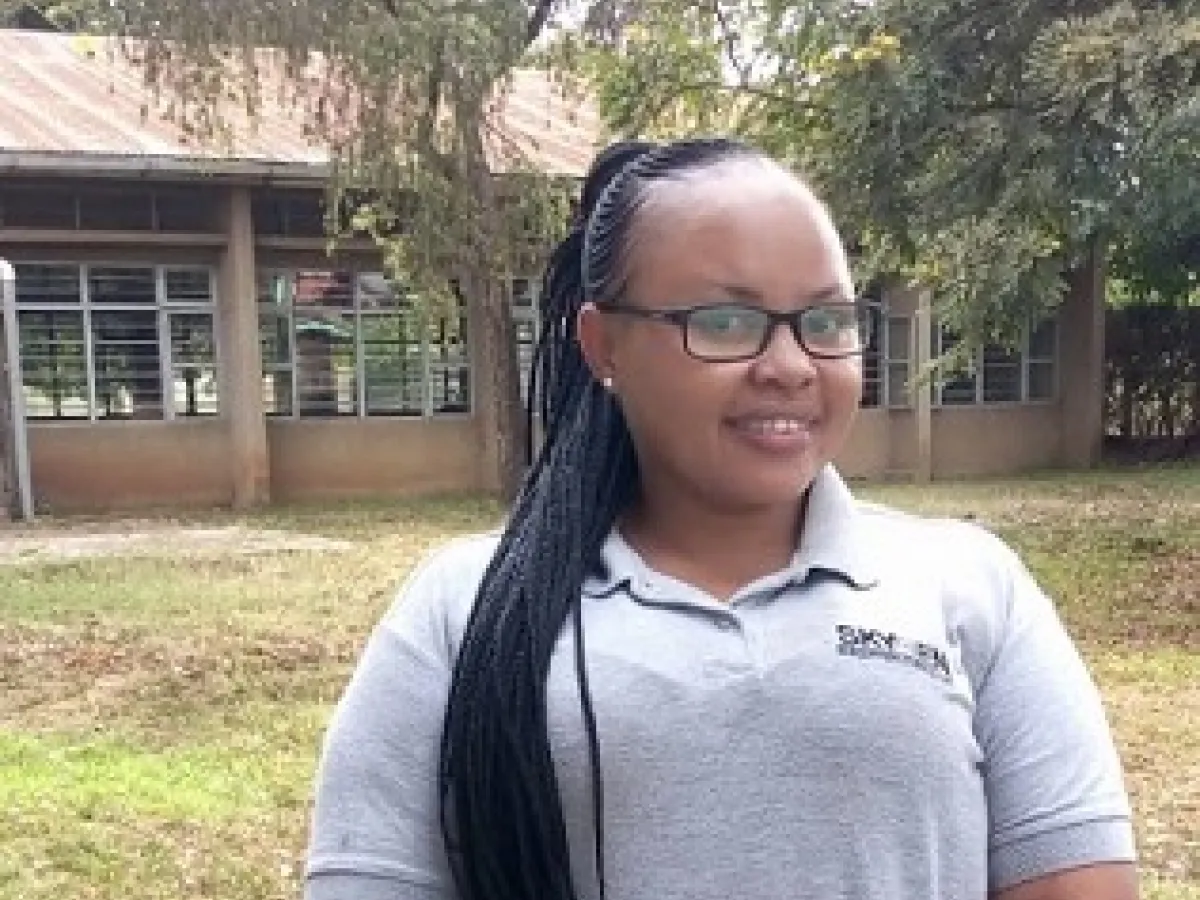 Theresia Namponji has also been working with SKYGEN International Foundation and says the work has blessed her in so many ways. She feels respected and appreciates being able to have such a positive impact on people's lives. "It's such an incredible and amazing experience being able to provide quality and reliable service to the people who can't afford the cost of being treated elsewhere. It's a life changing experience."

CUTTING EDGE TECHNOLOGY HELPS US REACH MORE PEOPLE
The upgrade to Kaleidos testing equipment allows us to rapidly screen each person and has greatly increased our efficiency. We can administer both the subjective acuity test with the tumbling E's as well as a completely objective test. The Kaleidos vision tool provides all necessary optometric measures in about 10 seconds. All of this helps determine who needs to see our staff optometrist to be individually fit for glasses. In addition, the team now has a phoropter and a test lens kit to help our optometrist refine the initial Rx from the Kaleidos. We can now quickly screen everyone twice and then spend time on those who need corrective lenses to ensure they get the best glasses for their vision challenges.
FOUNDATION LOOKS AHEAD
In 2019, the SKYGEN International Foundation plans to complete testing in the Meru district and move into the adjacent district of Arusha. The Foundation has already begun work to find additional workers in Arusha and is working to increase donations so that we can help meet the vision needs of the people of Tanzania.
A LITTLE BIT GOES A LONG WAY
At SKYGEN International Foundation, our mission is to find cost effective ways to improve healthcare in underserved parts of the world by using emerging technologies. Through collaboration with our project partners, the cost of a vision test and a pair of prescription glasses is just $5 (US dollars).
Even the smallest contribution can help make projects like these not only possible, but sustainable through training for local teams.
$5 for a pair of glasses
$15 per worker per day
$150 per month for office and storage space
$900 per month for fuel to drive to remote locations for clinics
$7,800 to purchase a new Kaleidos
$8,500 per month for truck rental
$35,000 to purchase a truck
 
You Can Make a Difference
Your donation helps provide vision screenings and prescription eyeglasses for underserved parts of Tanzania and funds training of local teams needed to sustain these efforts.
Donate Now