Off to a Strong Start in Tanzania
Not too long ago, Craig Kasten (CEO and Managing Partner of SKYGEN USA) was traveling in Tanzania when he noticed school children would stand just a few inches from the blackboard. He quickly realized they were having trouble seeing their lessons. From that experience, the charter project for SKYGEN International Foundation – improving vision care for Tanzanian children and adults – was born.
In early July 2018, a team from the Foundation arrived in Tanzania's Arusha region to begin a sustainable project that will deliver prescription eyeglasses on-the-spot to 70% to 80% of the people who attend the vision screening events. Custom eyeglasses will arrive within 1-2 weeks for children and adults with a more complicated prescription.
FIRST-TIME ACCESS TO VISION CARE
For many Tanzanians, SKYGEN Foundation's initiative will be the first opportunity to receive vision care. The country has just four eye doctors for every two million citizens. On Monday, the project team treated more than 300 children and adults. They saw more than 400 people on Tuesday, working through both evenings until it was too dark to see. Many more were asked to return for next week's vision testing and eyeglasses distribution.
MODERN TECHNOLOGY ENABLES ON-THE-SPOT EYEGLASSES
SKYGEN Foundation has brought three modern technologies together to make cost-effective vision care possible in the Arusha region:
EyeNetra's mobile diagnostic equipment for vision testing. The hand-held auto refractors are used to take measurements captured on a smartphone. The experience is similar to looking into the testing equipment at the DMV.
Essilor's Ready2Clip eyeglasses solution, which features attractive frames and pre-cut, interchangeable lenses which snap into the frames. Supplied by project partner Essilor Vision Foundation, Ready2Clip makes it possible to provide exact prescription eyeglasses on the spot – a critical capability for rural populations. Some of the Tanzanians who receive eyeglasses this week started walking from their homes around 3am to arrive at the clinic.
SKYGEN USA's Enterprise System vision platform, where the information collected will be stored and available for future use.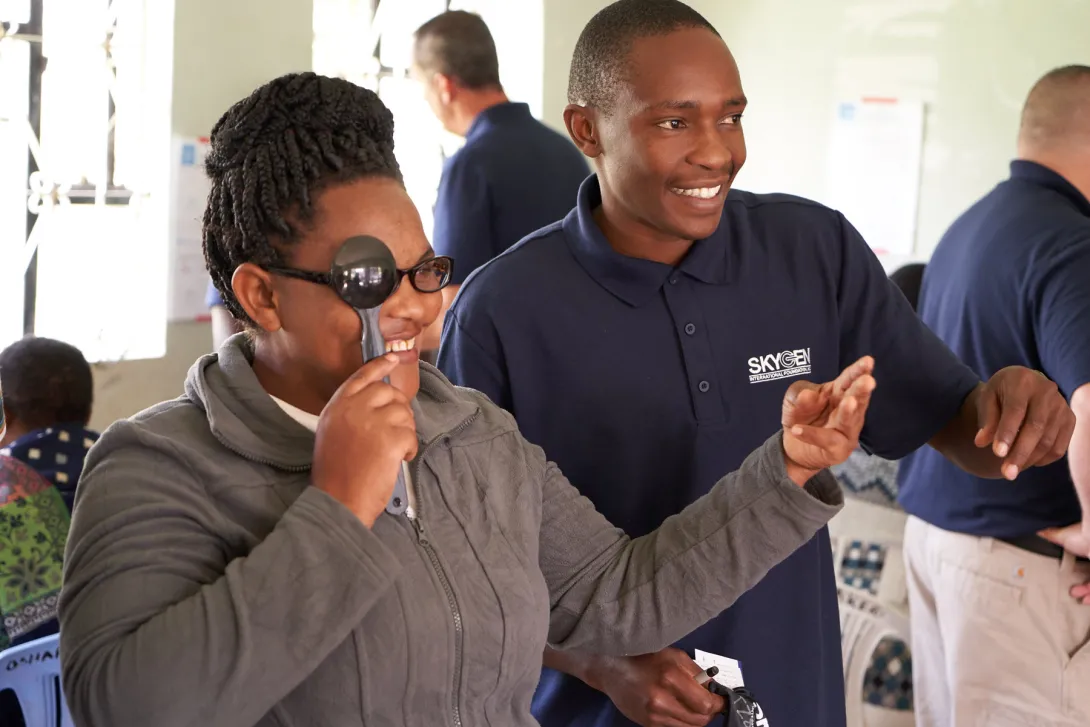 WELCOMED BY THE ELCT
The SKYGEN Foundation team was welcomed at the Kilimanjaro airport by the familiar faces of Bishop Elias Kitoi of the Evangelical Lutheran Church of Tanzania (ELCT) and his son, Emanuel. The ELCT is an invaluable partner for this project, operating the clinics and hospital where the vision testing is being held. In addition, local Parliament Member Joshua Nassati worked side-by-side with the team each day.
Bishop Kitoi provided executive oversight on the project, while Emanuel, a Chicago resident who studied at Milwaukee's Cardinal Stritch University, was the project coordinator and translator. Prior to the arrival of the SKYGEN Foundation team, Emanuel hired about a dozen local employees to continue the initiative. During this week, they received on-the-job training and helped to deliver vision care to as many children and adults as possible.
The Bishop welcomed the project members in other ways as well. The team was introduced to the congregation during church services on Sunday, where they attended a huge luncheon. They also shared a celebratory meal at the Bishop's home, where SKYGEN Foundation Executive Director Lisa Sweeney was honored with a gift of two roasted goats.
The SKYGEN Foundation team visited a different clinic or hospital each day this week.
Read Part 2 to see how SKYGEN Foundation was able to impact a total of over 1,600 people over the course of the week.
CONTINUE THE JOURNEY…
Continue reading about the team's efforts in Tanzania and a recap of the 5 days in 5 villages in Part 2 of this series.
You Can Make a Difference
Your donation helps provide vision screenings and prescription eyeglasses for underserved parts of Tanzania and funds training of local teams needed to sustain these efforts.
Donate Now