SKYGEN International Foundation's critically needed initiative to bring vision testing, eyeglasses and eye health education to Tanzania has gone extremely well in its first year. Through July 2019, the local team has given nearly 78,500 vision tests and distributed more than 20,000 pairs of eyeglasses. Now, the Foundation is gearing up to grow its impact. Strategic planning for wider expansion of eye care services into the Arusha region is well underway with close collaboration between Foundation staff in the U.S., its local team in Tanzania, and Project Coordinator Emanuel Kitoi. Foundation Executive Director Lisa Sweeney is leading the next trip to Tanzania later this month.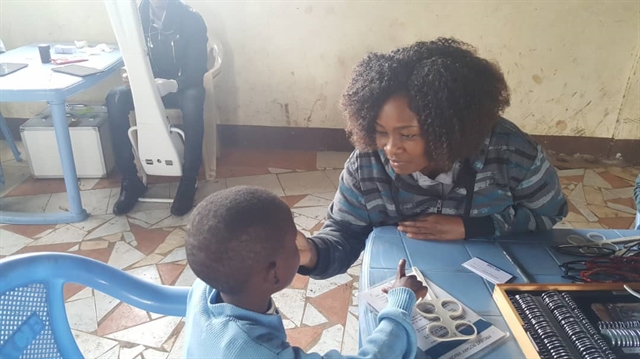 "A lot of planning goes into these trips, especially because we've found that shipping isn't always a reliable way to get the essential supplies to our local team," says Lisa. "We're bringing much of what's needed to serve over 78,000 people with eye care services." To support the expansion, the team will arrive with new autorefractor equipment, extra batteries and chargers, portable lights, equipment for the local team's new truck, new eye scopes for the optometrists, and supplies such as ID cards and eyeglass pouches.
"The new autorefraction equipment is a strategic improvement," says Brett Bennett, Director of Ocular Benefits, LLC at SKYGEN USA. "We've had a year's worth of experience out in the field now, and we've seen where we can improve our services. The Kaleidos autorefractor we're using is more reliable than previous devices because it doesn't require any input from the user. It's easier for people of all ages to use, and it's faster, so we'll be able to provide vision testing to more people. We'll continue to refine our process and practices so we can provide the best possible care." In an upcoming blog post, Brett will share more about the innovative technology that's enabled the Foundation to essentially recreate an optometrist's exam room in the field with no electricity and in a different location every day.
Another strategic improvement is the new selection of reading glasses and sunglasses in addition to Essilor's Ready2Clip prescription eyeglasses the Foundation already provides. With Tanzania's harsh sunlight, dusty and dry conditions, and shortage of good reading light at night, many who visit the mobile clinic can benefit from eye protection and magnifiers. The Foundation is meeting this simple but acute need efficiently and cost-effectively with its ready supply.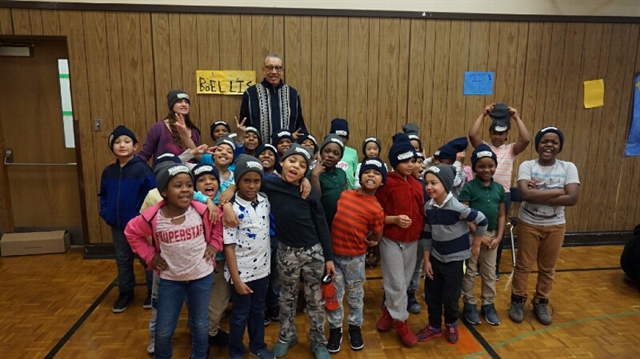 SKYGEN USA's Director of Community Outreach Bo Ellis will also be making the trip. The legendary college basketball player and coach and former NBA star knows how to connect with kids, and he's looking forward to meeting Tanzanian students who come for vision testing. This past year, the local team visited 154 primary and secondary schools in Tanzania, and tested 55,400 students.
In Milwaukee, Wisconsin, Bo regularly visits public schools with a motivational message about proactive habits for good health. His charismatic presence will enrich the eye care experience for Tanzanians of all ages. He plans to share his insights from the trip with students in Milwaukee this fall. Read more about Bo's work in the community.
"It will be great to have Bo join us for the trip," says Lisa. "He brings so much positive energy to everything he does, and I know he'll expand our impact with the stories he shares with students in Milwaukee this coming school year."
"Some of the people we serve have gone nearly their whole lives without corrected vision because it just wasn't an option for them," she adds. "Whether they're an elderly person who can now read the Bible without help, a taxi driver who can see the road signs more clearly, or a student who can now learn from lessons on the blackboard, they're telling us that eyeglasses are life changing. Their gratitude is amazing. It's hard to put into words the impact the local team is making."
$5
can buy a pair of glasses
$500
can provide vision tests and glasses for a small school made up of 222 students
$2,500
can help roughly 332 adults at a local hospital
$10,000
can help 11 schools - that's over 4,000 students with a brighter future!
You Can Make a Difference
Your donation helps provide vision screenings and prescription eyeglasses for underserved parts of Tanzania and funds training of local teams needed to sustain these efforts.
Donate Now