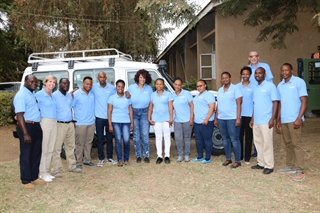 In July 2018, SKYGEN International Foundation arrived in the Meru district of northern Tanzania to begin a sustainable project to improve vision care in Tanzania. One year later, Lisa Sweeney, Executive Director of the Foundation, and Brett Bennett, Director of Ocular Benefits, LLC at SKYGEN USA, returned to the region to see the tremendous progress and growth the team has made. They were joined by Bo Ellis, SKYGEN USA's Community Outreach Director, and his wife, Candy, who are advocates for the Foundation, or as they say in Swahili; "wazee" meaning elders/advisors.
The goal of the trip was to evaluate the work done in the past year and begin strategic planning for wider expansion of eye care services into the Arusha region. The team focused on establishing relationships with local government, religious leaders, and the medical community in the area.
"Meeting with the members of community and hearing how word of our mission has spread was truly amazing," says Lisa. "In the beginning, people were skeptical of how long the project would run, the quality of service, and the products being provided. After hearing from their neighbors, friends, and family who received glasses as well as seeing it continue to thrive, the skepticism changed to advocacy for the work of the Foundation."
Since July 2018, the Foundation has visited 187 schools and held 93 general clinics, testing over 90,000 people and providing almost 22,000 pairs of glasses. Improvements such as new autorefraction equipment and the streamlined supply chain have greatly improved efficiency of the clinics and enabled the team to test more people in a shorter amount of time.
Providing a Lasting Impact
During the trip, the team was able to hear about some of the lasting effects the Foundation has had on people's lives by talking to patients who came through the clinics. They visited with people of all walks of life: from pastors to farmers, from first graders to elderly approaching 100 years old. The response was that of thanksgiving and praise as people were given a new lease on life through glasses.
Teachers reported seeing an improved performance in school by the students.
Pastors said they are seeing greater participation during service such as reading scripture and singing along to hymns.
A young boy who received glasses went from being last in his class of 50 to now in the top 10.
There was even a professional driver who visited a clinic that was found to need a strong correction for distance.
"One of the touching stories we heard was that of a woman who had trouble cooking her rice," says Lisa. "In Tanzania, the rice has small stones and chaff in it that needs to be separated from the rice grains. Because she was unable to see clearly, she couldn't distinguish the rice from the stones. After receiving a pair of reading glasses, she can now cook and eat her rice with confidence!"
Next Steps in Tanzania and Beyond
As the local team completes clinics in all the schools in the Meru region this October, efforts will then begin in the Arusha school district which will take about 18 months to complete all primary and secondary schools. The team will also schedule a monthly clinic for people who received glasses from the Foundation who may be having issues with their eyewear such as broken or lost glasses.
The Foundation also hopes to add dental hygiene education to the school clinics and expand to other areas and add teams should the funding become available.
$5
can buy a pair of glasses
$500
can provide vision tests and glasses for a small school made up of 222 students
$2,500
can help roughly 332 adults at a local hospital
$10,000
can help 11 schools - that's over 4,000 students with a brighter future!
You Can Make a Difference
Your donation helps provide vision screenings and prescription eyeglasses for underserved parts of Tanzania and funds training of local teams needed to sustain these efforts.
Donate Now