MORE THAN 146,000 CHILDREN & ADULTS SERVED
In just two years, the SKYGEN International Foundation's charter project to bring vision care to Tanzanian children and adults has grown from hundreds of people served to more than 146,000. Read about the July 2018 launch.
In August 2018 the Foundation's local team began holding clinics in public and private schools in the Meru and Arusha Districts of Tanzania. It's an effort that truly impacts students' futures: Good vision supports their achievement in school, which in turn opens their future to so many more opportunities. The team is also continuing to hold clinics during school breaks for adults who need vision testing and eyeglasses.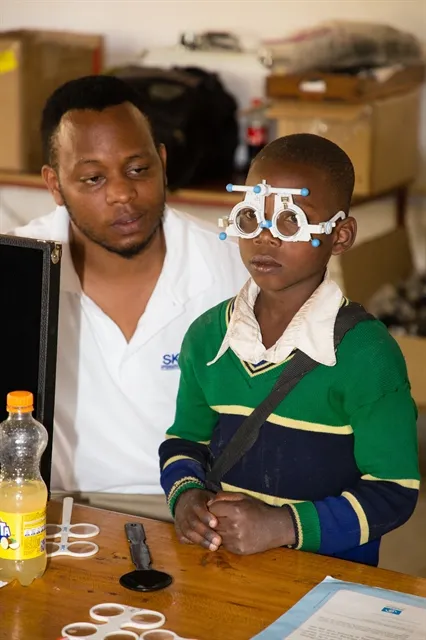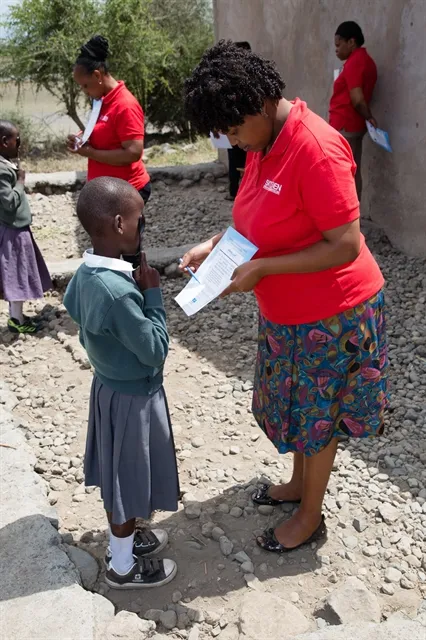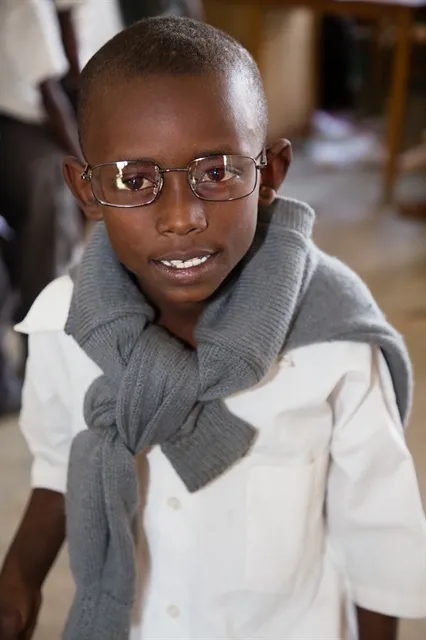 IN JUST THE FIRST TWO YEARS OF THE SCHOOL INITIATIVE:
Clinics were held at 300 primary and secondary public and private schools
112,045 students had their vision tested
Most of the students requiring correction received on-the-spot prescription eyeglasses, and those with very strong perscriptions had glasses specially made
4,484 teachers and staff were also tested
6,172 people received free glasses at the clinics
 
WEARING GLASSES IS "COOL"
When the local team visits each classroom, students are intensely curious about how the autorefractors work. Like kids all around the world, they get the idea quickly and learn to use the devices even better and faster than most adults. Most of the students want to see each other's prescriptions and then promptly start joking around about their new glasses!
All of the students who receive glasses have had vision problems that impacted their ability to study and complete class work. They're now able to see clearly and participate and study just like their classmates. They say they're thankful for this gift of vision. Many realized they had eyesight problems, but were unable to seek care due to a lack of resources in their families and the community.
Teachers are also aware that vision problems are holding some of their students back. They are just as excited as their students when the children receive their glasses. It means that students no longer have to stand just a few inches from the chalkboard to see their lessons. SKYGEN USA founder Craig Kasten noticed this happening when he first visited Tanzania a few years ago. Several school administrators have expressed extreme gratitude to the Foundation for the change it will bring to individual students and entire classrooms for generations to come.

THE NEED FOR EDUCATION ON EYE HEALTH
The SKYGEN Foundation is the first to bring vision correction and education about basic eye health to the Meru District. For most, the closest eye care at the regional hospital is out of reach.
"We selected the Meru area due to the relationship with SKYGEN USA founder Craig Kasten's church here in Wisconsin," said SKYGEN Foundation Executive Director Lisa Sweeney. "Craig saw the need firsthand during some of his past trips to the region, and that helped shape the vision for the Foundation and take it from a dream to a reality. The gift of vision can change these children's lives. It's a very special feeling knowing that we are leaving a footprint in the Meru area that is ever growing."

A LITTLE BIT GOES A LONG WAY
At SKYGEN International Foundation, our mission is to find cost effective ways to improve healthcare in underserved parts of the world by using emerging technologies. Through collaboration with our project partners, the cost of a vision test and a pair of prescription glasses is just $5 (US dollars).
Even the smallest contribution can help make projects like these not only possible, but sustainable through training for local teams.
$5
can buy a pair of glasses
$500
can provide vision tests and glasses for a small school made up of 222 students
$2,500
can help roughly 332 adults at a local hospital
$10,000
can help 11 schools - that's over 4,000 students with a brighter future!
You Can Make a Difference
Your donation helps provide vision screenings and prescription eyeglasses for underserved parts of Tanzania and funds training of local teams needed to sustain these efforts.
Donate Now