How do you recreate an optometrist's orderly, well-lit, equipment-filled exam room in the field, day after day, with success? "It's been one of our biggest challenges," says Brett Bennett, Director of Ocular Benefits, LLC at SKYGEN. "We're setting up our mobile eye clinic in dry, dusty fields in Tanzania with no electricity, and the roads to get there are pretty bumpy. We needed to select technology and develop a process that stands up to the travel, to heavy use and the remote locations, and provides a positive experience for the people coming to us for vision care."
A Marine Corps veteran, Brett brings more than 25 years of experience in vision benefit administration and clinical management to the Foundation's initiative in Tanzania. He specializes in vision plan operations and network development.
NEEDING A BRIDGE
SKYGEN International Foundation's vision is to find cost-effective ways to improve healthcare in underserved parts of the world by using emerging technologies. As the philanthropic arm of the healthcare benefits technology and administration company SKYGEN®, the Foundation was well-positioned to create a mobile eye clinic solution using innovative technologies. By bringing an existing solution for mobile eye testing together with an existing solution for on-the-spot prescription eyeglass, then bridging the gap with SKYGEN's Vision Portal, the Foundation has developed a proven model for accessible, cost-effective vision care in remote areas.

TECHNOLOGY CREATES ACCESS TO VISION CARE
Technology has already enabled access to vision care for more than 78,500 children, students and adults in Tanzania. Here's how the Foundation's local team is using it:
Vision testing is performed with the Kaleidos autorefractor by Adaptica. The data is then uploaded to SKYGEN USA's Vision Portal via tablet. Like many emerging countries, though Tanzania lacks electricity outside urban areas, it has decent cellular service.
People with standard prescriptions receive a pair of Essilor's Ready2Clip prescription glasses in their choice of frames on the spot. For non-standard prescriptions, the local team orders custom eyeglasses from Essilor's lab in nearby Nairobi, Kenya. These are sent to Tanzania in about two weeks.
Every person receives a patient ID card and their eye screening data is stored in the SKYGEN USA Vision Portal for future vision checkups.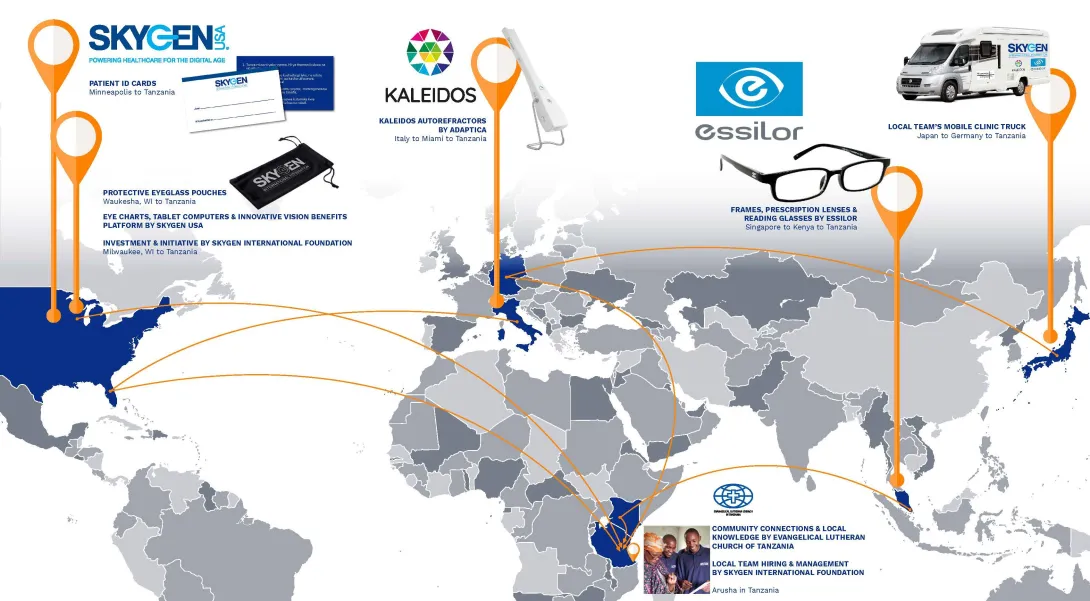 MAKING ADJUSTMENTS ALONG THE WAY
To ensure the vision care technology being used is up to speed, the Foundation continues to make strategic refinements. One of the key improvements in the first year of the vision care initiative is a switch to the Kaleidos autorefractor. With the Kaleidos, patients simply look into the light and the screening is automatically completed. Since there's no input needed from the patient, vision testing is much simpler and more reliable for people of all ages and those with mental disabilities. It's also faster, allowing the Foundation's local team to serve more people in less time – a huge benefit as there are often hundreds of people already lined up for vision screening by the time the team arrives.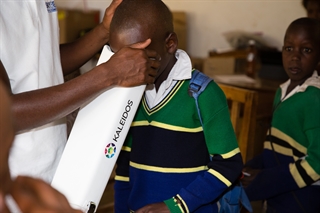 "Our goal remains to provide quality vision care and an excellent patient experience, so we'll continue to make improvements to our mobile clinic technologies and process based on our growing experience in the field," says Brett. "We're pioneering cost-effective access to vision care in remote areas, and we're sharing our knowledge with other organizations. It's exciting and very satisfying to see that we've been able to put the Foundation's vision into action and create life-changing impact for people in Tanzania."
Like to learn about the planning that goes into a Foundation trip? Read our blog. Check back here later this month for reports on the Foundation's August 2019 trip to Tanzania.
$5
can buy a pair of glasses
$500
can provide vision tests and glasses for a small school made up of 222 students
$2,500
can help roughly 332 adults at a local hospital
$10,000
can help 11 schools - that's over 4,000 students with a brighter future!
You Can Make a Difference
Your donation helps provide vision screenings and prescription eyeglasses for underserved parts of Tanzania and funds training of local teams needed to sustain these efforts.
Donate Now